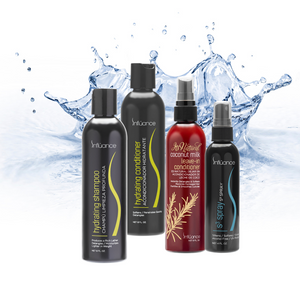 This premium set encapsulates the nourishing benefits of Influance Hair Care's selected products, providing a comprehensive regimen for well-hydrated hair. 

1. **Hydrating Shampoo:** Begin your hair rejuvenation journey with our hydrating shampoo. Formulated to gently cleanse while preserving your hair's natural moisture balance, it leaves your strands soft, clean, and prepared for further nourishment.

2. **Hydrating Conditioner:** Follow through with the hydrating conditioner to lock in moisture, smooth out frizz, and promote a healthy, nourished scalp. Its reparative formula helps mend hair damage, leaving your locks manageable and silky smooth.

3. **Coconut Milk Leave-In Treatment:** Experience the moisture-sealing magic of our coconut milk leave-in treatment. This lightweight, non-greasy formula penetrates deep, providing essential nutrients and lasting hydration that helps in managing your hair effortlessly throughout the day.

4. **S3 Shine Spray:** Finish off your routine with a spritz of our S3 shine spray. Designed to impart a high-gloss finish, this spray envelops your hair in a lightweight, reflective shield, promoting a luxuriously glossy finish without weighing it down.